The National Silhouettes of Kappa Alpha Psi Fraternity, Inc. became official in August 1947, at the Los Angeles, California Conclave of Kappa Alpha Psi Fraternity, Inc. In 1980, the Silhouettes were officially recognized as an auxiliary to the Fraternity. Under the leadership of Dr. Oliver Gumbs, Grand Polemarch, the Silhouettes were granted a seat on the Board of Directors of the Kappa Alpha Psi Foundation, Inc. On September 11, 1987, Kappa Alpha Psi Fraternity, Inc. recognized the Silhouettes as an affiliate, whose purpose is to provide support and assistance for the activities of the Fraternity at the Grand Chapter, Province, and the Local levels.
The Tucson-Sierra Vista Silhouettes (TSVS) was chartered on December 6, 2020, led by Silhouette Jacqueline Berryman, President, of the Western Province Silhouettes. The chapter was chartered to support the initiatives of the National Silhouettes organization. Along with the National Initiatives, the mission of the TSVS is to support the activities and events of the TSV Alumni Chapter of Kappa Alpha Psi, Inc., in the Tucson-Sierra Vista area and surrounding communities.
The TSV Silhouettes Chapter membership has grown since initial chartering from 9 members to 13. Members pictured above from left to right are: Seated: Gail Woolfolk (Historian), Lesia Coleman-Linzy, Wilette Diggs (President); Second row: left to right are: Dr. Tadzia Brown, Souky Coneway (Parliamentarian), Felecia Holmes (Financial Secretary), Olympia Tinsley (Chaplain), Stephanie Martin (Vice President); Brandi James (Secretary). Other members not pictured: Marlene White, Chandra Givens (Treasurer), Elaine Vindiola-Blackwell and Aracelis Brown.
Since its chartering, the TSV Silhouettes have contributed nationally to The Kappa Foundation, St. Jude, National Alliance on Mental Illness, Global Infant Safe Sleep Center and the March of Dimes. TSV Silhouettes have also supported the TSV Alumni Chapter of Kappa Alpha Psi as well as local communities. Some of their activities include donating: food to a local food bank in Sierra Vista, new clothing and personal items to Emerge Center for Domestic Abuse, and the Southern AZ Ronald McDonald House. TSV Silhouettes also assisted the men of Kappa Alpha Psi during tailgate activities at the University of Arizona homecoming, as well as assisting at an event held at Kraft Republic to promote ticket sales for a raffle benefiting the Arizona Achievers' Foundation.
Food Donation to Sierra Vista Food Bank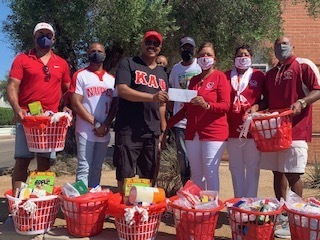 Supporting Ronald McDonald House New Moms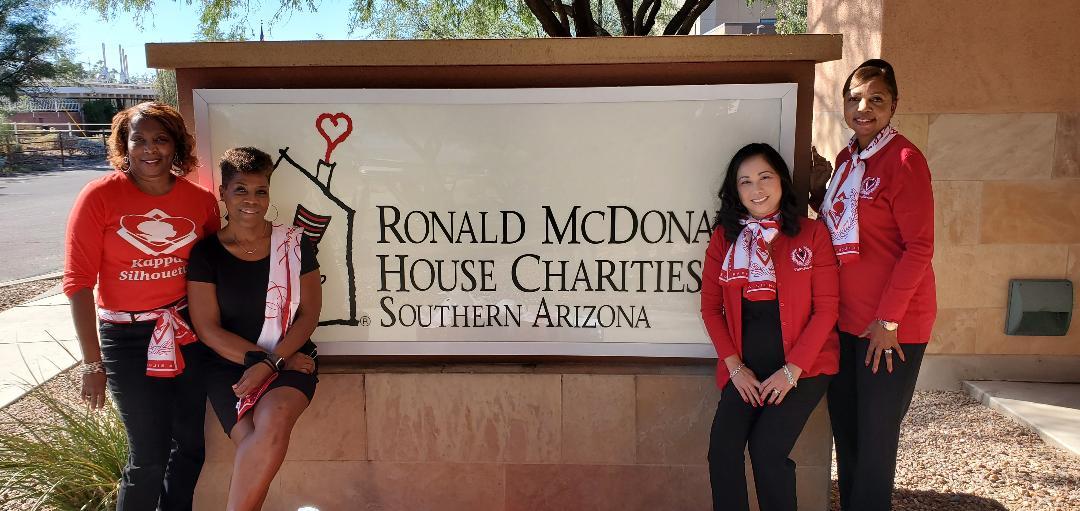 Emerge (A Local Domestic Violence/Abuse Shelter) Stuff the Bus Event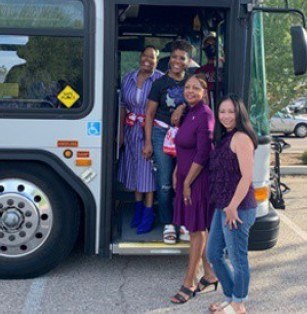 Membership & Contact Information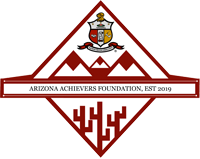 Donate to The Arizona Achievers Foundation
The AAF is a 501 (c)(3) non-profit organization. All donation are tax-exempt.
Membership is open to wives and widows of active Kappa Alpha Psi Fraternity, Inc. members.
To learn more about the TSV Silhouettes and/or to become a member, please contact us at TSV.Silhouette@gmail.com and include in the Subject "Membership Inquiry".
For additional information on the National Silhouettes of Kappa Alpha Psi Fraternity, Inc., please visit their page at https://www.kappanationalsilhouettes.org/our-history/