Our senior members remain the backbone of the Tucson-Sierra Vista Alumni Chapter. It is a well known fact that the Senior Kappas are and remain the primary support group of every fundraising endeavor. They recruit the most support and regularly lead in soliciting the highest amount of financial support of every fundraising project. In addition, their commitment to every community activity remains unequaled, whether it be a Guide Right program, a Kappa League event or any of our many foundation events. Their presence and involvement remains enthusiastically supportive.
In our transition from a small chapter to a medium-size chapter, we now have the resources, financially and personnel, to take on a greater role in our veteran community. Having two major military institutions in the area, Davis Monthan AFB and Ft Huachuca, a need exists for the Brothers of Kappa Alpha Psi involvement. Through our collective efforts, we plan to:
Annually recognize our veterans to let them know that we value their services and willingness to continue to serve the community through the charitable efforts of TSVAC.
Keep veterans informed of various programs and opportunities to serve the veterans community.
Provide help to qualified vets to obtain gainful employment at various companies in the area.
Sponsor a minimum of one chapter sponsored function each year that supports a veterans organization.
TSVAC is fortunate to have fifteen Brothers representing four of the five military branches. These Brothers' service to our country spans the Vietnam era down to the most recent conflicts. Chapter's veterans are:
Brother Vernon L. Trotter

U.S. Army

Brother Khawand Canty Sr.

U.S. Army

Brother Jwan D. Tucker

U.S. Army

Brother Joseph S. White

U.S. Army

Brother Jason A. Brown

U.S. Air Force

Brother George Priest

U.S. Marine Corps Reserve

Brother Dewey A. Holmes

U.S. Air Force

Brother Arthur W. Tigney

U.S. Air Force Reserve

Brother Carlos A. Lindsey

U.S. Air Force

Brother Clea O. McCaa

U.S. Army

Brother Calvin H. Jackson

U.S. Air Force

Brother Roger C. Hunter

U.S. Army

Brother Joseph S. Brown Jr

U.S. Army

Brother Christopher E James

U.S. Army Reserve

Brother Ted Guillory

U.S. Navy
Pay Chapter Dues - See Chapter Exchequer For Payment Information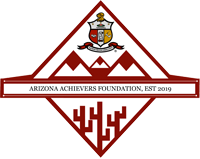 Donate to The Arizona Achievers Foundation
The AAF is a 501 (c)(3) non-profit organization. All donation are tax-exempt.